Hi everyone ! For some months now, I've been thinking about the future of Sjs-Studio. This site made me grow since almost 15 years. There was some good and some less good times. It's amazing how quickly time passes. For some time now, I have in mind a project dear to my heart for a long time. It's the construction of a 2D engine. I thought a lot about the language I'd use for it and I came to the conclusion that C# would be my choice. I will use SFML.NET to get there so that my engine will be available on Windows and Linux. These are my two starting platforms. For the rest, we will see later. In the coming months, I will read a book on SFML to refine my knowledge and I will define the technical specification that I would implement my engine. Who said engine also says building a level editor and or project editor. For now, I have my own idea on how it will look. In the coming weeks and months, I will show you my progress on my book reading and then I will post articles about the progress of my engine. It is not impossible for me to do all in parallel. I will keep you informed. Finally, I leave you with a picture of my book that I begin this week. See you soon.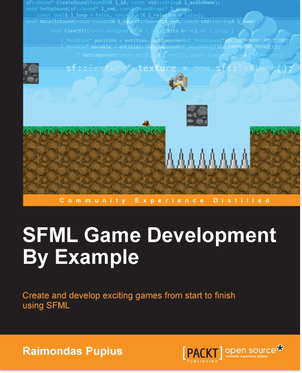 Here is already close to a month since the end of Ludum Dare # 29. Last week, I received my results and I am very satisfied. I have 4 results over 3/5 which is my best performance in this competition. I am already looking forward to the next edition to be able to improve my score. In the coming weeks, I'll be back on work on the game to fix bugs and make a lots of improvements. I am now about to write a little documentation to serve as a beacon for me later. If ever you are interested to read this documentation later, please let me know as soon as possible. In the meantime, here's a quick list of the changes I will make to the game:
Add 3 to 6 new tower types.
The UI will be redesign.
New music
New levels
Campaign mode
Arcade mode
Etc
That was my third Ludum Dare and it's probably my better game I had make in this competition. To start, sorry for my English, it's not my first language. Here is a little screenshot.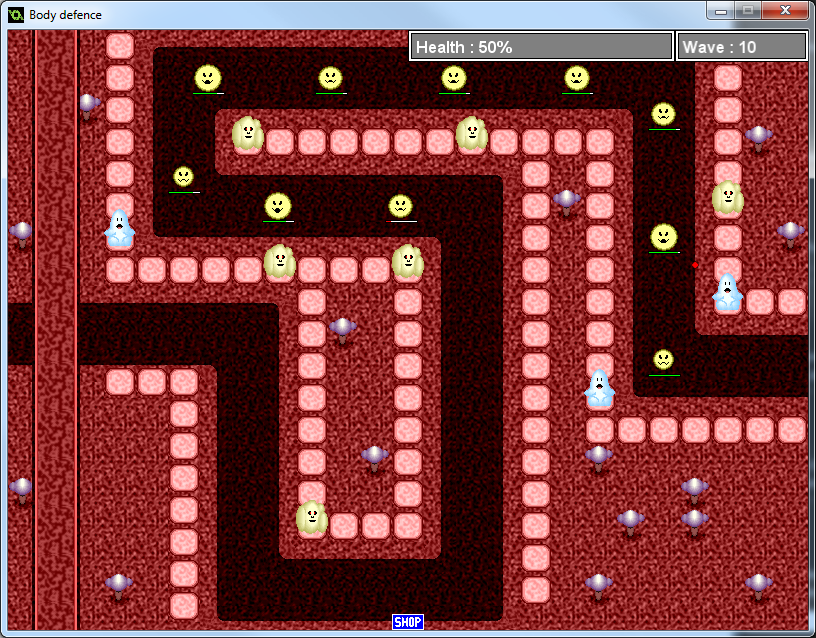 I was supposed to use C# and monogame but I decided at last minute to try GameMaker. I'm very happy with that choice because I was able to do the core gameplay mechanic very fast so I was able to made all my little sprites and a second level.
The good
– My arts. It's incredible how it was simple to make some pixel arts with tilestudio.
– I was able to make a second level
– Nothings wrong happen when I published my game
– I didn't have a monster bug to fix
The bad
– My UI. I hate my UI (I will work on it later)
– It take a long time to have my idea. In fact, I found my Idea when I was taking my shower Saturday morning.
– It take some times to balance the towers vs enemies
Conclusion
That was my best Ludum Dare. I will continue to work on this game. The first things I will do is the re-factoring of my UI. After that, I will add some levels, new enemies, new tower,new tower upgrades and maybe a little story.
If you want to try my game, you can go here : Body Defence
Don't hesitate to give me your comments.
At April 26-27 April 2014 weekend, I will participate in the Ludum Dare competition for the third time. The competition is about creating a video game from scratch from a set theme in 48 hours (72 hours with lighter rules). This time I'll have much more time to do it because my weekend is quieter. For my part, I will build my game with these tools.
Language: c#
Programming software: Visual studio 2010
Library: MonoGame
Graphics tools: TileStudio avec  Tiled.
SFX:  LabChirp
Music: Musagi
My goal for this weekend is of course finished the competition and not giving up. I will write here 1 or 2 times per day about the progress I will make on my project.